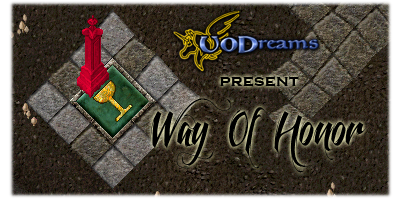 The path of honor is not for all the same!

But now, not only a warrior can
take this road!

If you clean up the evil from Ilshenar
you will be rewarded
of your honorable action!
Details:
Fight against the monsters in the Humility Champ, and you will have the opportunity to obtain some special Honor Check!
Depending on the level at which there is the Champ you can get 3 different types of check:
- 50 honor points
- 250 honor points
- 1000 honor points (max 15 x Champ)
A check expires in 2 hours (only 50 points check expires in 8 hours), is blessed and contain the name of the player that dropped them, so only him can use it. If you do 2click on them, you will see a message that tells you the remaining time before they disappear!
To use them you must reach the Honor Stone, which is located near the Honor gate in Ilshenar, and follow the instructions.
Online Now
17 anonymous
Visits:
66061314